QUALITY TRAINING CONTENT
TheUmpSchool.com® presents Online Baseball Umpire Training providing education in rules and mechanics utilizing the patented CASRTS® Learning Method developed especially for Sports Officials.
The majority of our operating profits are used to support TheUmpSchool Foundation® – a 501(c) (3) Non-Profit Organization dedicated to improving umpire training by providing free clinics and low-to-no-cost umpire equipment to under-served and/or at-risk youth umpire organizations.
TheUmpSchool.com® has compiled hundreds of hours of umpire training video content utilizing Live Game Footage to provide exceptional instructional material to our students.
This is the only training of its kind anywhere, and our training curriculum leverages the CASRTS® sports official proprietary learning method – which is proven to help you retain information and implant visual recognition better and faster – while reducing the time it takes for students to become knowledgable and skilled umpires by about 5x.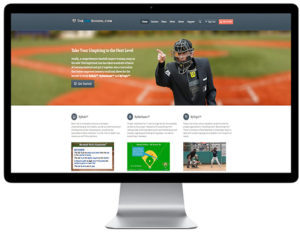 STRIVE TO BE GREAT BECAUSE GOOD ENOUGH JUST ISN'T GOOD ENOUGH™
CASRTS® PATENTED LEARNING METHOD
The CASRTS® proprietary learning method for Sports Officials leverages multiple types of content that are delivered in such a manner as to improve memory recall and speed up the learning process for umpires using a science=based approach for imprinting the brain's visual cortex.
This approach to learning is so unique and revolutionary that it is patented – there is nothing like it anywhere.  CASRTS® is the first-of-its-kind sports official specific training curriculum specifically designed to significantly reduce an umpire's learning curve.
In testing, we have seen a three to five-fold decrease in the amount of time it takes to learn play recognition versus umpires that learn the old-fashioned way.  This means that we are cutting your learning curve down from one-third to one-fifth of what it would normally take to get to the same point!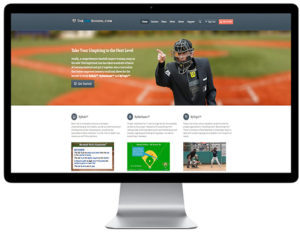 STRIVE TO BE GREAT BECAUSE GOOD ENOUGH JUST ISN'T GOOD ENOUGH™
EXCLUSIVE LEARNING PLATFORM
Students and UICs can track their progress to see which courses have been taken, as well as test scores.  Areas that need extra work can be repeated as often as desired.
TheUmpSchool.com® is also a proprietary learning management system that students and UICs can use to track progress, and to test knowledge and retention of the subject matter.
The lessons can be taken in any order, or they can be taken in the suggested order for beginners (recommended for 1st to 3rd year umpires).
Sign Up Now
Expert Instructors
Our instructional staff is made up of current Division 1 college umpires, former Major League and Minor League umpires – as well as some Division 2, Division 3 and Junior College umpires.
When each student logs in, they are taken to their profile.  They are able to personalize it and add their photo, experience and a short description of their goals and/or experience.
Sign Up Now
Actual Game Footage
The video training content contains actual game footage, much of which is captured from multiple angles, and tailored to the view that the umpire needs to see.
Hundreds of hours of video is collected each year, with situations being extracted and added to new or existing lessons in an effort to continually expand the umpire's virtual training experience.
Sign Up Now
Why Choose Us
Student Progress and Course Ratings
Full-Featured Video Lessons
Experienced Instructors
Lesson Attachments and Frequently Asked Questions
Extremely Affordable
Take Your Baseball Umpiring to the Next Level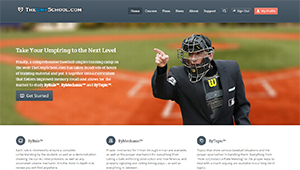 Sorry, but you do not have permission to view this content.